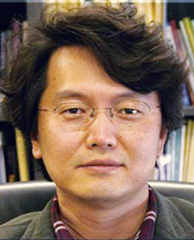 homepage
Bioinformatics and Synthetic Biology Laboratory
Bioinformatics and Synthetic Biology lab aims to characterize and use the cellular functional networks to design various biomedical applications by integrating system-wide biological information with computational analysis and experimental verification. Currently, we are targeting to develop novel therapeutics for complex diseases and innovative biosynthetic processes generating therapeutic materials. To facilitate these goals, we strategically combine the methodologies in the fields of "Bioinformatics", "Systems Biology"
"Structural Biology" and "Synthetic Biology".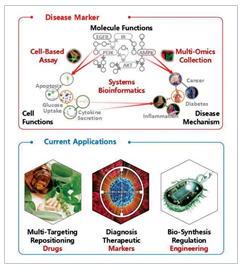 Informatics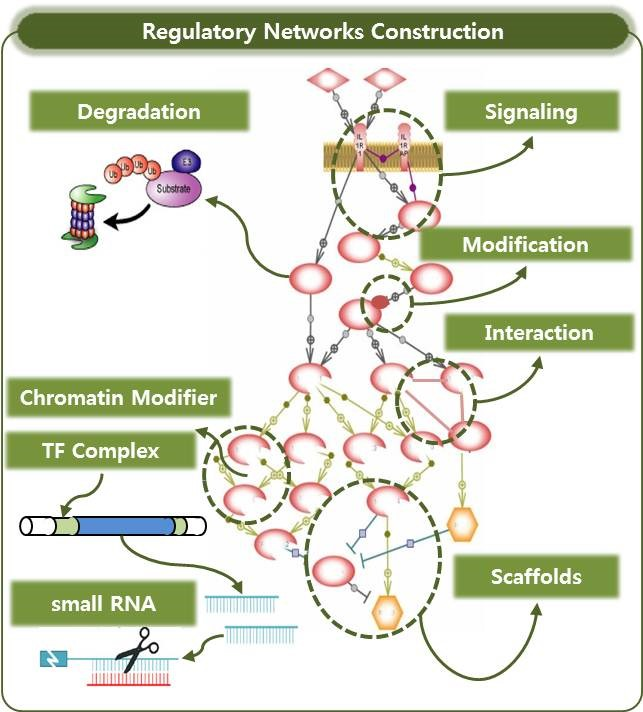 We construct system-wide cellular regulatory network models composed of the regulation of gene expression, modification, degradation, and inter action in different cellular conditions. In our study, the concerted genetic or epigenetic regulation mechanisms in gene expression including the function of chromatin modifiers, transcription factors and small RNAs are integrated with the protein level regulation such as protein modification, interaction, localization and degradation. We infer the regulatory relations among the genes with their relational patterns in sequence, expression, interaction, and biological function from the scattered data in literature and biological databases. Using the integrative logical inference or computational simulation, we predict the possible regulatory models and important system markers (or regulators) including receptors, channels, scaffolding proteins, transcription factors, E3 ligases and other modifiers.
Discovery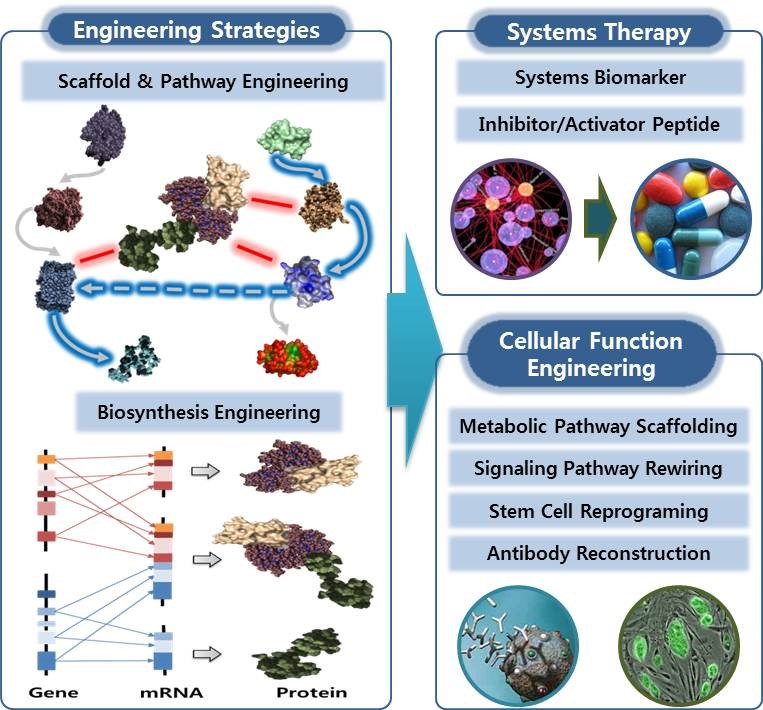 We test the suggested regulatory models by using molecular and cellular function assays. The relations of genes in the model can be reconstruct in a systemic way with the data of condition specific Omics experiments. In conjunction with individual or systemic cellular function assay, the roles of key regulators, their relations and their possible drugs in a system can be verified. Through this validation process, we pursue to discover the key regulators and their specific relations controlling cellular functions involved in diseases, which can be suggested as system biomarkers or engineering targets. One of our research target is to develop an efficient systemic cell based assay in this process. Top-notch micro and nanotechnology will be integrated with molecular and cellular Omics technology.
Engineering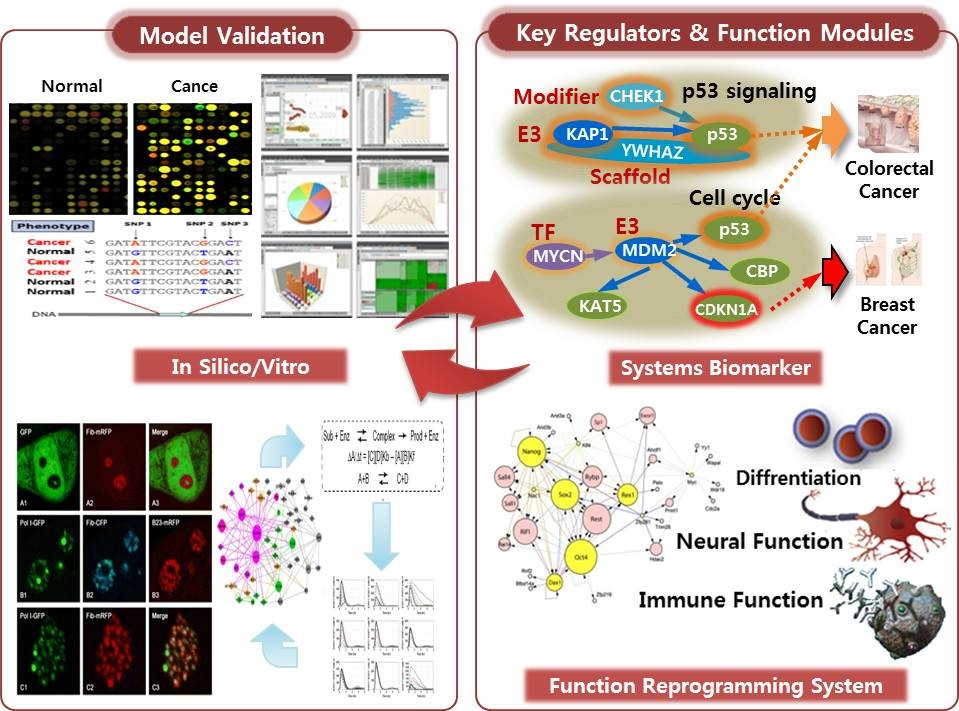 Our first engineering target is changing molecular interaction of key proteins regulating cellular functions. We also try to engineer the bio-synthesis process in cell to generate diverse types of biomolecules efficiently. Our integrative approach will support to develop an efficient engineering method that overcome many huddles that current synthetic biology faces in practical implementation. Especially, we are interested in using or making multi- functional and multi-targeting molecules. Those engineered biomolecules can be used in detecting or manipulating the cellular functions including cellular pathways or regulating circuitry with high fidelity and flexibility.
Achievement In This Year
1. [SCI Journal] Yi Li, Nan-Young Jung, Jae Cheal Yoo, Yul Kim and Gwan-Su Yi (2017, Nov) "Acebutolol, a Cardioselective Beta Blocker, Promotes Glucose Uptake in Diabetic Model Cells by Inhibiting JNK-JIP1 Interaction" doi: https://doi.org/10.4062/biomolther.2017.123, Biomolecules & Therapeutics, corresponding
2. [SCI Journal] Tae Hwan Kim, Soo-Eun Sung, Jae Cheal Yoo, Jae-Yong Park, Gwan-su Yi, Jun Young Heo, Jae-Ran Lee, Nam-Soon Kim, Da Yong Lee (2017, Oct) "Copine1 regulates neural stem cell functions during brain development" doi: https://doi.org/10.1016/j.bbrc.2017.10.167, BBRC
3. [SCI Journal] Young Bin Joo, Yul Kim, Youngho Park, Kwangwoo Kim, Jeong Ah Ryu, Seunghun Lee, So-Young Bang, Hye-soon Lee, Gwan-Su Yi, Sang-Cheol Bae (2017, Oct) "Biological function integrated prediction of severe radiographic progression in rheumatoid arthritis: a nested case control study doi: 10.1186/s13075-017-1414-x, Arthritis Research & Therapy, corresponding
4. [SCI Journal] Cheal Yoo J, Park N, Lee B, Nashed A, Lee YS, Hwan Kim T, Yong Lee D, Kim A, Mi Hwang E, Yi GS, Park JY. (2017, July) "14-3-3γ regulates Copine1-mediated neuronal differentiation in HiB5 hippocampal progenitor cells". doi:10.1016/j.yexcr.2017.04.015. Exp Cell Res., correspondingli>
5. [SCI Journal] Yoon Hyeok Lee, Hojae Choi, Seongyong Park, Boah Lee and Gwan-Su Yi (2017, May) "Drug repositioning for enzyme modulator based on human metabolite-likeness doi: 10.1186/s12859-017-1637-5, BMC Bioinformatics, corresponding
6. [Patent] 류마티스관절염 예후 예측용 SNP 마커 세트 (SNP marker set for predicting of prognosis of rheumatoid arthritis), Patent Application Number 10-2017-0079278, 2017. 06. 22
7. [Patent] 암의 재발 예후 예측을 위한 바이오마커 발굴 시스템 및 방법 (SYSTEM AND METHOD OF BIOMARKER IDENTIFICATION FOR CANCER RECURRENCE PREDICTION) Patent Application Number 10-2017-0079168, 2017. 06. 22
8. [Patent] 질병 연관 세포기능에 연결된 마커 기반으로 멀티마커 패널을 선정하는 시스템 및 방법 (SYSTEM AND METHOD FOR SELECTING MULTI-MARKER PANELS), Patent Application Number 10-2017-0079167, 2017. 06. 22
9. [Patent] 유사 약리활성 그룹 화합물들의 조각구조 특성 연관규칙을 기반으로 신규 선도물질 예측 방법 및 시스템 (METHOD AND SYSTEM FOR PREDICTING NEW DRUG LEAD COMPOUND CANDIDATE BY APPLYING ASSOCIATION RULES BETWEEN PHARMACOLOGICALLY ACTIVE SIMILAS COMPOUNDS AND THEIR FRAGMENTS), Patent Application Number 10-2017-0079166, 2017. 06. 22
10. [Patent] 인체 대사 물질과의 유사도 기반 약물 재창출 후보 예측 방법 및 그 시스템 (METHOD AND SYSTEM FOR PREDICTING DRUG REPOSITIONING CANDIDATE BASED ON SIMILARITY BETWEEN DRUG AND METABOLITE), Patent Application Number 10-2017-0079165, 2017. 06. 22
11. [Patent] 인간 막단백질 분류 및 기능 예측 방법 (System and method for the classification of human membrane protein and function prediction), Patent Number 10-1750465-0000, 2017. 06. 19